<![if !vml]>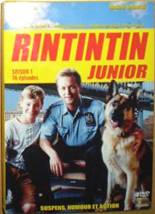 <![endif]>Katts and Dog / Rin Tin Tin K-9 Cop
French DVD-box 1
Episodes:
1: Le Témoignage (Freeze)
When Stevie is present at an attempted store-robbery, he decides to witness against the robber. But the robber is a psychiatric patient, who soon escapes and starts terrorizing Stevie.
2: L´Arme du Crime (The Gun)
Stevie accidentally overhears that the gun used in a robbery that day was the same gun that was used to kill his Dad. He is determined to finally avenge his father´s death, and "borrows" Hank´s gun to accomplish his quest.
<![if !vml]>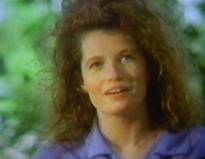 <![endif]>
3: L´Appât (Decoy)
K-9 is the logical choice to capture a maniac who molests women walking their dog. But when the first attempt ends in disaster for their colleague, there is only one person left for the job: Renée Daumier, the lackadaisical new recruit from Paris.
(intro-episode for Renée)
4: Chien Perdu avec Collier (Hot Under the Collar)
Rinty goes undercover with a listening device in his collar and pretends to find a new home with the young son of a dangerous drugdealer.
<![if !vml]>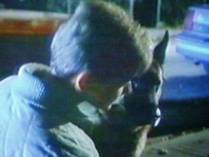 <![endif]>
5: Affaire de Famille (A Family Affair)
Stevie´s grandparents aren´t so sure that Hank is able to take proper care of their grandson, and they want Stevie to come and live with them instead. In the meantime, Hank is using himself as bait for two notorious cop-molestors.
6: Lorsque l´Enfant Paraît (Twelve Cops and a Baby)
Chaos at K-9: a robbery that wasn´t a robbery (or was it?), Stevie all excited about a valuable package he found in the street, a distressed bride looking for her groome, the mayor coming to visit, and on top of that Hank coming in with an abandoned baby...
7: Perdu et Retrouvé (Lost and Found)
Hank accidentally killed a young guy in a gunfight. But after he called in to report, it appears the guy´s gun is missing, and Hank turns into the accused – unless he can find that gun, and find it fast.
<![if !vml]>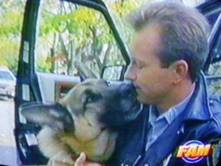 <![endif]>
8: Copie Conforme (Double Exposure)
Hank invites a beautiful lady – victim of an attempted robbery – to the barbecue on Saturday night with his friends from K-9. The next day finds the lady in prison for having robbed a jewelry store the evening before. But surely she has a perfect alibi: she was with Hank, Renée, Lou and Stevie at the time, wasn´t she?
9: Le Ripou (A Killer Among Us)
A young boy from the street gets his hands on an incriminating audiocassette. Hank takes him home for protection, but the owner of the tape is not one to give up so easily...
10: La Vengeance (Officer Down)
Hank, Lou and Rinty run into an ambush, and Rinty gets seriously hurt. Lou tries to help the <![if !vml]>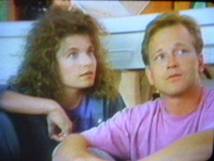 <![endif]>daughter of a killed criminal – a beautiful songstress – and walks right into the next ambush.
11: Un Flic en Prison (Jail Bait)
Renée is caught red-handed for the trafficking of cocaine and goes to jail. Lou and Stevie do what they can to prove that it´s all a mistake, but Hank is strangely cool about their friend and colleague having turned her coat...
12: Erreur sur la Personne (Mistaken Identity)
Hank is mistaken for someone else and is kidnapped on his way to a fishing trip. Will Stevie, Lou and Renée find him in time once they´ve realized he´s gone missing?
<![if !vml]>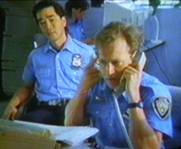 <![endif]>
13: Pollution (Don´t Drink the Water)
Stevie and his friend witness the dumping of toxic acid in the river. According to their description, the barrels belonged to the Kirk Waste Company, of which the senior president is the town´s major fighter for the environment.
14: Le Caméléon (The Chameleon)
Hank accidentally bumps into a dangerous terrorist with a trunk full of ready-to-use explosives. The guy gets away, but will K-9 be able to track down in time where he was headed with those explosives?
15: Une Journée Périlleuse (Day of Jeopardy)
Hank and Rinty have to escort a spy through dangers that resemble a war. And it would be a lot <![if !vml]>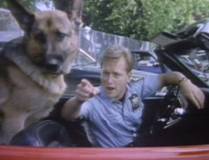 <![endif]>easier if the spy wasn´t determined to get away on her own...
16: Sprint contre le Mort (A Ride into Danger)
Renée is kidnapped on a bicycle-tour to discourage her father from witnessing in an important trial. When Hank goes after her to find out what happened, he only ends up joining her in her precarious situation. So now it´s up to Stevie and Rinty to save the two!
Bonus:         - biographies on Jesse Collins, Andrew Bednarski and Barry Pearson
                      - The history of Rin Tin Tin
                      - Rintintin Junior in the French press
Note: the bonus material is the same in all three dvd-sets.
♦♦♦♦♦♦♦♦♦♦♦♦♦♦♦♦♦♦♦♦♦♦♦♦♦♦♦♦♦♦♦♦♦♦♦♦♦♦♦♦♦♦♦♦♦♦♦♦♦♦♦♦♦♦♦♦♦♦♦♦♦♦♦♦♦♦♦♦♦♦♦♦♦♦♦♦♦♦♦♦♦♦♦♦♦♦♦♦♦
Katts and Dog is out on dvd – in French
What´s on the other dvd´s:
Petition to get the entire original series in English on dvd
(WIP)
♦