<![if !vml]>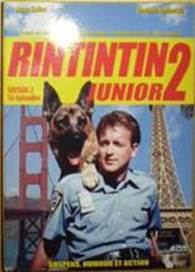 <![endif]>Katts and Dog / Rin Tin Tin K-9 Cop
French DVD-box 2
Episodes:
1: Immunité Diplomatique (Diplomatic Immunity)
Paris. When Renée´s father is shot, Hank and Rinty follow the culprits – until they take refuge in an embassy.
2: Vol au Grand Hôtel (The Grand Hotel Caper)
The luxurious Grand Hotel has had a few unfortunate jewelry robberies from the rooms lately. Hank, Lou and Renée are asked to infiltrate, and Renée will serve as an irresistable victim for the robbers.
<![if !vml]>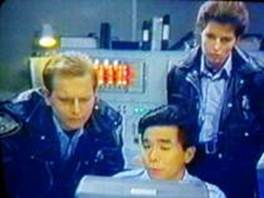 <![endif]>
3: Un Parfum de Liberté (Scent of Evil)
Paris. The perfume industry is shocked by the robbery of the top secret list of ingredients for the latest perfume. And nothing but Rinty´s excellent sense of smell can solve the mystery.
4: Perdu dans la Ville (Lost Dog)
Paris. Hank and Rinty are witnesses to a store-robbery. Rinty sets out after the robber, but Hank can´t keep up with him and loses sight of him. When Stevie hears that Rinty is lost, he sets out on his own to find him in the huge city of Paris.
5: Prise d´Otages (Desperate Sunday)
Sgt. Callahan and Renée are taken hostage by a couple of criminals who want to reclaim a few incriminating articles from the storage room at K-9. It´s Hank´s job to convince the criminals to at least let his colleagues go free – and preferably unharmed.
<![if !vml]>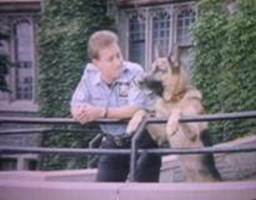 <![endif]>6: Cascade Mortelle (Fatal Obsession)
Things get dangerous at the filmset, when the guy organizing the technical parts of the stunts has a hidden agenda. But who exactly is the victim he is after?
7: Père et Fils (Father and Son)
Hank decides to adopt Stevie as his son. Unfortunately, the department responsible for the adoption procedure is far from happy with Hank´s unresolved marital status, as well as his dangerous job – of which they have ample proof.
<![if !vml]>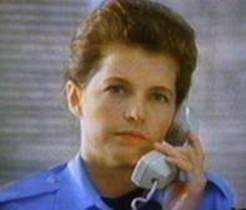 <![endif]>8: Qui M´Aime, Aime Mon Chien (Love Me, Love My Dog)
Hank falls head over heels in love with a colleague from another police department. There is however one serious problem: she is allergic to dogs!
9: Amitié Dangereuse (Friendly Persuasion)
Hank is delighted to see his old pal David Butler from the police academy again. Unfortunately his delight doesn´t last long, for his friend is involved in some shady business...
10: Alerte à la Bombe (Skyscraper)
The eliminating of a bomb is only the beginning of the story. What they really need to do is to place a bag with 10,000 dollar in a locker at the railway-station in order to find out who was behind setting the bomb in the first place...
<![if !vml]>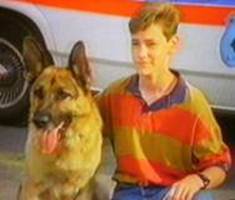 <![endif]>
11: L´Enlèvement (Kidnapped)
When he sees the girl he´s in love with being kidnapped by her father, Stevie doesn´t hesitate but jumps into the back of the truck. They end up at a small airport, and waiting for a plane to take Sharon away, he discovers that her father may have had somewhat good intentions, but his helper definitely not...
12: Coup du Sort (Count Your Blessings)
Ron is shot and is injured so badly that he´ll never walk again. Hank and the others try to cheer him up, but nothing will restore Ron´s spirits save for his personal capture of the guy who shot him.
13: Une Vraie Vie de Chien (It´s a Dog´s Life)
The two criminals are aware that a police dog like Rinty will be able to identify them after they shot a guy going in for trial, and they do everything they can to kill him off. But Rinty is having a field day in luring them!
<![if !vml]>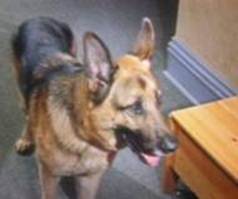 <![endif]>
14: Promenons-Nous dans les Bois (A Day in the Country)
Hank and Stevie find a body in the woods: a man killed by a wolf. But according to the local forester Jonah, wolves don´t kill people: people kill people. Are they perhaps dealing with a werewolf here?
15: Au Feu les Pompiers (Playing with Fire)
Tony has just gotten involved in the program to help young pyromaniacs when the shed at his house goes up in flames, nearly killing a vagabond who had taken refuge there. But is everything as it seems? Stevie is sure Tony is innocent this time...
<![if !vml]>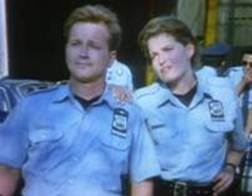 <![endif]>
16: Souffler n´est pas Jouer (And the Winner Is...)
Hank´s being on the jury of a beauty-contest ends in a drama when the winner is found dead in the boot of his car. And he was the last person to see her before that...
Bonus:      - biographies on Jesse Collins, Andrew Bednarski and Barry Pearson
                  - The history of Rin Tin Tin
                  - Rintintin Junior in the French press
Note: the bonus material is the same in all three dvd-sets.
♦♦♦♦♦♦♦♦♦♦♦♦♦♦♦♦♦♦♦♦♦♦♦♦♦♦♦♦♦♦♦♦♦♦♦♦♦♦♦♦♦♦♦♦♦♦♦♦♦♦♦♦♦♦♦♦♦♦♦♦♦♦♦♦♦♦♦♦♦♦♦♦♦♦♦♦♦♦♦♦♦♦♦♦♦♦♦♦♦
Katts and Dog is out on dvd – in French
What´s on the other dvd´s:
Petition to get the entire original series in English on dvd
(WIP)
♦