<![if !vml]>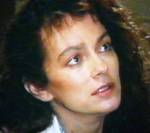 <![endif]><![if !vml]>

<![endif]>
                   Melita Jurisic
                                              Melita Jurišić
                                                                 (including her complete stageography)
Actually, this is not really a fanpage for Melita. It´s just that about most of the FD-actors it is very easy to find information on the internet. They either have one or several fansites, and if not, you can always go and check out the more general fansites dedicated to the The Flying Doctors series. But that doesn´t work for Melita; at first glance it seems very little is known about her.
<![if !vml]>
<![endif]>
That goes for me, too. I have never met Melita Jurisic. My recent contact with her has been through an intermediate, and the very, very little I know about her personally comes from the internet. So I have no idea whether she is a nice person or not. Sure, there is a fair chance that she might be, but there is no way I can tell. But since I do like her portrayal of Dr. Magda Heller so much, at the time I thought she deserved at least a place where all known information about her could be collected.
However, recently I discovered that Melita has her own site now, too, and quite an informative one, as you may discover following the link below. But since mine is part of the only site on Dr. Magda, I think there is reason enough to keep this one on the air alongside with hers. ☺
♦♦♦♦♦♦♦♦♦♦♦♦♦♦♦♦♦♦♦♦♦♦♦♦♦♦♦♦♦♦♦♦♦♦♦♦♦♦♦♦♦♦♦♦♦♦♦♦♦♦♦♦♦♦♦♦♦♦♦♦♦♦♦♦♦♦♦♦♦♦♦♦♦♦♦♦♦♦♦♦♦♦♦♦♦♦♦♦♦
<![if !vml]>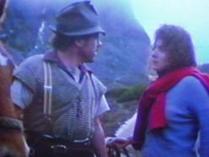 <![endif]>Melita Jurišić was born in Croatia. When she was five years old, she migrated to Australia with her family, where she studied drama at a Theatre Drama school in Melbourne.  
She started her official career in 1981, with a small part in the Australian movie I Can Jump Puddles. In those days however, most of the time she appeared on stage in a variety of plays: from Shakespeare and Goethe to The Marriage of Figaro and The Adventures of Paddington Bear, mostly with Jim Sherman´s Lighthouse Company in Adelaide. Already from the beginning she was no stranger to playing multiple parts in one show.
From 1986 onwards, she seems to have developed into a well-known actress rather quickly. Her greatest success on the filmscreen came in 1987, when her interpretation of Ruby Rose in the dramafilm The Tale of Ruby Rose won both the Elvira Notari prize and the Francesco Pasinetti Prize at the international Venice Film Festival. More awards followed: she won the Green Room Award for best (supporting) actress on stage in 1991, 1992 and 1994, and was nominated for several awards during the period 1989-1998, too. Another recognition of her work was her winning the Cladan Award in 1988/1989, for her contribution to the Sydney Theatre.
<![if !vml]>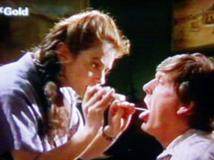 <![endif]>In 1990 Melita was casted to portray the German Dr. Magda Heller in The Flying Doctors. I have been told by an insider, that – unlike the other doctors, who were always credited as the stars of the show – her part was considered a support-character. Well, at least to begin with. At the time, immigrant-characters were practically absent on the Australian TV (?), so Crawford Productions wanted to see how she was received by the public before deciding on lending her the same status as her medical colleagues.
Things didn´t turn out the way they had hoped for though. The public seemed to have a hard time empathizing with the immigrant-character. Whether this <![if !vml]>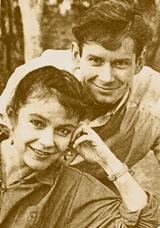 <![endif]>really was due to the character itself is hard to tell. The character of Magda Heller never got the chance to develop properly; partly because she was but a support-character (and thus the viewers had but limited opportunities to really get to know her), and partly because the producers seem to have decided pretty quickly that she wouldn´t be staying anyway. The fact that the series´ continuity at the time wasn´t too good either – with people changing interest in one another almost by the episode – may have caused an even further alienation. Especially when the producers left the viewers in utter bewilderment having Magda leave because of her impossible love for her bratty colleague Dr. Reid, for which not a single hint can be traced in the preceding episodes. And that after the more elaborated – and definitely more believable – initial crush on her other colleague David Ratcliffe they had come up with for her arrival...
Picture gallery on Melita as Dr. Magda Heller
<![if !vml]>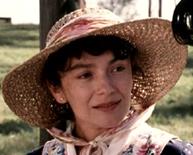 <![endif]>During the 90´s, Melita seems to have worked both on stage and in front of the camera. Notable on her CV are the number of immigrant-characters: seven out of her thirteen parts mentioned at the IMDB are of immigrant-nature. It started with her parts in The Petrov Affair and Hunger, in 1986. After having played the German Dr. Heller, she continued to portray for <![if !vml]>
<![endif]>example the Russian Dr. Eva Petrovska in the series Something in the Air, the Slavian Maria Buloh in the immigration-drama The Sound of One Hand Clapping, and she got the part of the Dutch immigrant Adrianna Leeuwen in Bordertown, a mini-series on immigrants after world war II. Even on stage she has played quite a number of immigrant-characters of different origin. Whether this was her own choice, or whether those parts gave her the stigma of the actress who always portrays the immigrants, so she hardly got casted for other charactertypes anymore, is something I don´t know.
Searching the internet for Melita Jurisic leads to quite some references to her as a "nude celebrity" as well. I haven´t checked them out, so it´s not really clear to me whether she actually has done erotic films (perhaps The Scent of Passion...? I haven´t seen it though), or that some weirdo is so obsessed with naked bodyparts that he simply has put up pictures of "accidental" naked legs etc from famous, attractive actresses in "ordinary" movies.
<![if !vml]>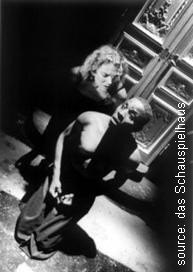 <![endif]>It seems Melita´s heart is with the theatre though. Especially after 2000, there are numerous references about her standing on stage, and hardly any in the film- and TV-business anymore. Most of her appearances on stage are in dramatic plays. She seems to prefer more experimental or provoking drama to the great successes of the masses, which means the budget is usually rather limited.
In 2001, she accepted an invitation from the Australian director Barrie Kosky, "in exile" in Austria because the kind of plays he wanted to do were not considered viable by the Australian artistic industries. So for a few years, Melita has had the leading parts in (sometimes somewhat controversial) interpretations of for instance Kafka and Shakespeare, staged at the theatre Das Schauspielhaus in Vienna. From what I understand, Kosky´s plays are adaptations of the classics, addressing present-day taboo subjects (like ethnic cleansing and immigrant-problems). According to Kosky, the plays he directs are a mixture between <![if !vml]>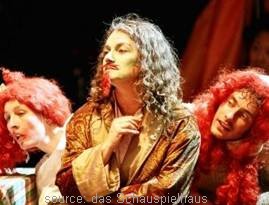 <![endif]>play, opera, operette, revue and trash, and his international team of actors have become pretty much allround-performers: they don´t limit themselves to acting, they sing and dance as well.
Melita worked with Kosky in Vienna for two years. Since 2003, it seems she is part of the year back on stage in Australia, and part of the year taking on other leading roles in both Kosky´s and others´ productions in Vienna and in other towns in Austria, and even touring around to other European cities. For example: I have found notes about plays starring Melita staged in Luxembourg, in Slovakia, in Portugal, in Edinburgh, in Dortmund and in Berlin. A while back though, Kosky has left Das Schauspielhaus. For about a year Melita stayed with the ensemble, but recently she has left the Viennese theatre, too, and is already engaged to play the three (!) main female parts in <![if !vml]>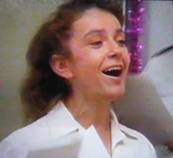 <![endif]>Kosky´s new play: Women of Troy, to be staged in Sydney and Melbourne from September 2008 onwards. Still, she is even registered with an actor-agency in Berlin, Germany, too.
Another branch Melita has been working in now and then is music. She had been taking on guest appearances in concerts of famous Australian choirs before, and in Austria she sings sometimes at art festivals with the group Metalycée, or at the presentation of a new book. Early 2007 she was responsible for the vocal part in a Szely CD, in which she generally is praised for her ability to change her voice from "angelic to demonic and back".
<![if !vml]>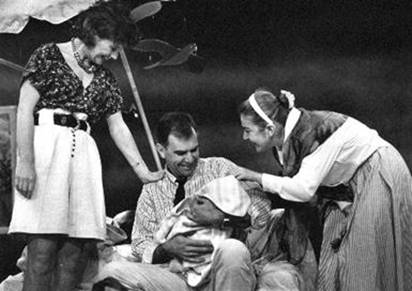 <![endif]>
It might be a funny trivial curiosity to know that the actress playing the German Dr. Magda at the time didn´t speak German at all. For when she went to work in the Viennese theatres, she had to memorize her lines phonetically! And they weren´t exactly minor parts: Poppea, Medea, MacBeth... Melita seems to be considered the star of the ensemble, and whatever production they put up, she has one of the leading, if not the leading part. But according to the reviews in the Austrian newspapers she must have managed very well, since the Austrian critics are almost unanimous in praising her performances. Well, on hearing the few German words she spoke as Dr. Magda Heller, I do believe she would be able to master the pronunciation. But still... to memorize entire main parts phonetically...! Wow...
♦♦♦♦♦♦♦♦♦♦♦♦♦♦♦♦♦♦♦♦♦♦♦♦♦♦♦♦♦♦♦♦♦♦♦♦♦♦♦♦♦♦♦♦♦♦♦♦♦♦♦♦♦♦♦♦♦♦♦♦♦♦♦♦♦♦♦♦♦♦♦♦♦♦♦♦♦♦♦♦♦♦♦♦♦♦♦♦♦
Stageography
Australia

Woyzeck: A Good Murder, A Real Murder

A Few Roos Loose in The Top Paddock

Vienna/Austria/Europe

The Adventures of Paddington Bear

Chilling & Killing My Annabel Lee

On The North Diversion Road

Medea

Danny & The Deep Blue Sea

Dafke!!

This Hospital Is My Country

Poppea

A Midsummernight´s Dream

MacBeth

The Blind Giant Is Dancing

Middentity

The Language of The Gods

Das Schloss

Women of March The First

Wiener Lächeln

Mourning Becomes Electra

Rettet die Mäuse!

Young Playwrights Festival

Der Ubu-Komplex

Les Liaisons Dangereuses

Der Verlorene Atem

My Sister in This House

Kasimir und Karoline

The Marriage of Figaro

Interpretationsache 06

Only An Orphan Girl

Das Lied von der Erde

The Crimson Island

Hoffmanns Erzählungen

Big Hair in America

Der Kaukasische Kreidekreis

Prince of Homburg

Nach der Zeit im Takt sehen

1975 - A Love Story

...denn Zeit wird aus Melodie geboren...

Picnic with Fatima

Der Familientisch – Wiedersehen macht Freude

The Three Sisters

The Roundsman

<![if !vml]><![endif]>

If Winter Comes

Jack The Ripper

Mother Courage

The Golden Age

Once A Catholic

The Lost Breath

Intimate Letters

Solitary Animals

Life Is A Dream

Blood Wedding

Women of Troy

Fat King Melon

The Blue Hour

Filmography

A Doll´s House

(incl. TV and Radio)

The Dogs Play

The Collection

A Spring Song

Volkov

Twelfth Night

Fishing

A Cheery Soul

Hunger

Hedda Gabler

Mercury

Falling Petals

Get Real

Silver Lining

Pokerface

Viva La Vida

I, Eugenia

Uncle Vanya

Old Goriot

Agamemnon

Bordertown

Netherwood

Dead Water

Capricornia

Transatlantik

Mad Forest

Land of Hope

Royal Show

The Fast Lane

Nice Girls

Einstein´s Wife

King Lear

One Such Night

Schweyck

A Woman´s Tale

The Idiot

The Petrov Affair

Don Juan

The Flying Doctors

Bali Adat

45 Dollars An Hour

Tartuffe

I Can Jump Puddles

Pal Joey

The Scent of Passion

Quartet

Something in The Air

Sunrise

The Malice of Empire

Images

The Tale of Ruby Rose

Lovers

The Sound That Time Makes

Faust

Murder on The Ballarat Train

1975

Blue Heelers (guest appearance)

Gigi

The Sound of One Hand Clapping
♦♦♦♦♦♦♦♦♦♦♦♦♦♦♦♦♦♦♦♦♦♦♦♦♦♦♦♦♦♦♦♦♦♦♦♦♦♦♦♦♦♦♦♦♦♦♦♦♦♦♦♦♦♦♦♦♦♦♦♦♦♦♦♦♦♦♦♦♦♦♦♦♦♦♦♦♦♦♦♦♦♦♦♦♦♦♦♦♦
Note: Several pictures on this particular page are not mine. I have copied them from other sites, but since this was done quite some time ago, I don´t know anymore where exactly they came from. So if you see a picture on this page that is rightfully yours, please let me know, and I will credit you for it on this page, or – if you prefer – remove the picture all together.
♦♦♦♦♦♦♦♦♦♦♦♦♦♦♦♦♦♦♦♦♦♦♦♦♦♦♦♦♦♦♦♦♦♦♦♦♦♦♦♦♦♦♦♦♦♦♦♦♦♦♦♦♦♦♦♦♦♦♦♦♦♦♦♦♦♦♦♦♦♦♦♦♦♦♦♦♦♦♦♦♦♦♦♦♦♦♦♦♦
Picture gallery on Melita as Dr. Magda Heller
Back to The Flying Doctors TV-cast
(fanfiction about Dr. Magda Heller)
♦
Melita Jurisic´s official homepage
♦
♦♦♦♦♦♦♦♦♦♦♦♦♦♦♦♦♦♦♦♦♦♦♦♦♦♦♦♦♦♦♦♦♦♦♦♦♦♦♦♦♦♦♦♦♦♦♦♦♦♦♦♦♦♦♦♦♦♦♦♦♦♦♦♦♦♦♦♦♦♦♦♦♦♦♦♦♦♦♦♦♦♦♦♦♦♦♦♦♦