<![if !vml]>

<![endif]>
A world with no fear
Five stories to make this a better place   
♦♦♦♦♦♦♦♦♦♦♦♦♦♦♦♦♦♦♦♦♦♦♦♦♦♦♦♦♦♦♦♦♦♦♦♦♦♦♦♦♦♦♦♦♦♦♦♦♦♦♦♦♦♦♦♦♦♦♦♦♦♦♦♦♦♦♦♦♦♦♦♦♦♦♦♦♦♦♦♦♦♦♦♦♦♦♦♦♦
4  Look in the mirror through the eyes of an outsider:
The Forgotten Door, by Alexander Key
<![if !vml]>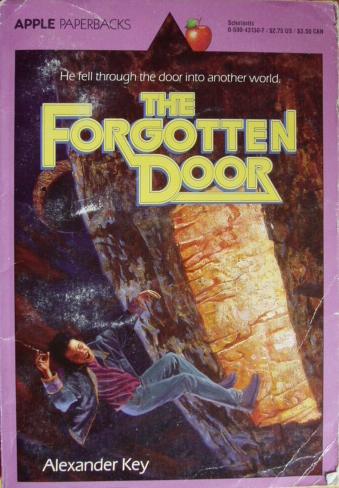 <![endif]>All he remembers is a fall. Falling through something and hitting his head. But where is he? Who is he? And why are some things so familiar and others so very very strange?
Little Jon starts to wander around, looking for help. A friendly doe leads him down to the valley, where the people are. But the doe is afraid. Afraid of the people. Why?
When they finally find a man, the guy uses some sort of fire-spitting stick to hurt the doe. And he talks so strange and harsh. Why doesn´t he understand? Why? Why!?
Little Jon realizes that this place – wherever it is – is not as safe and as friendly as home. Carefully he goes around, trying to find friendlier people; people who might be able to help. People like him.
He settles for the Bean family when he observes them driving by. The Beans are indeed good people: they take care of him and try to help him the best they can. He is picking up their language pretty fast, but explaining is difficult. Especially if you hardly know who you are...
And where did he come from? Based on the scraps of Jon´s memory, Thomas Bean has some interesting theories about Jon´s home. But his wife comes to a totally different and rather unbelievable conclusion: Jon must have come from another world!
In the meantime, a theft has been discovered. And the ugly man who shot at the doe goes around telling his story about the ´wild boy´ he nearly caught in the same neighbourhood last Saturday. Suspicion is generally drawn to Jon, and the police comes to investigate. No one but the Bean family believes in his innocence, for they are yet acquainted with Jon´s total ignorance of money and his baffled reaction to the possibility of telling a lie. Still, Jon knows how to lead the police to the exact place where the stolen goods are hidden. All evidence seems to point out Jon as the thief, and to acquit himself he has no other option but to make his secret public. And the truth is scarier than most people thought possible.
The town is in uproar, but in the middle of all this, a representative from the government shows up. They read about him in the papers and the Intelligence department is willing to go far, very far in order to get hold of him; they could use someone with Jon´s extraordinary abilities.
Will Jon be caught and forced to work for the ruthless power-maniac Colonel Quinn? Or is there a way the Beans can help him get back to his own peaceful world? But even if they can – will their own lives ever be the same again?
Little Jon gives you a look in the mirror through his eyes – and it´s not showing a very pretty picture. If only...
Best quote: "Things must be very wrong if truth can cause trouble."
The Forgotten Door was originally published in 1965.
It is still available, and I know of at least a German translation of it.
♦♦♦♦♦♦♦♦♦♦♦♦♦♦♦♦♦♦♦♦♦♦♦♦♦♦♦♦♦♦♦♦♦♦♦♦♦♦♦♦♦♦♦♦♦♦♦♦♦♦♦♦♦♦♦♦♦♦♦♦♦♦♦♦♦♦♦♦♦♦♦♦♦♦♦♦♦♦♦♦♦♦♦♦♦♦♦♦♦
The other four stories the whole world should read:
Love is strong; it only cares of joyful giving
Then why do we keep strangling life?
In my heart, I feel you are all my brothers
We could really get there, if you cared enough for the living
♦
♦
♦♦♦♦♦♦♦♦♦♦♦♦♦♦♦♦♦♦♦♦♦♦♦♦♦♦♦♦♦♦♦♦♦♦♦♦♦♦♦♦♦♦♦♦♦♦♦♦♦♦♦♦♦♦♦♦♦♦♦♦♦♦♦♦♦♦♦♦♦♦♦♦♦♦♦♦♦♦♦♦♦♦♦♦♦♦♦♦♦